The world is full of cities that contribute to app development projects. Developers are in elevated demand for worldwide clients.
You would be surprised to know that there are close to 4 million software developers and more than 100,000 Software development agencies in the USA all alone.
Pursuing talented app developers is a complicated process as you have to judge a good number of limitations — whether they are committed, their past work, reasonable prices, project delivery on time, etc. Let's suppose that you got all such particulars and also you are pleased with all of them at the first meeting.
Now a question arises, how could you be certain that provided information is correct?
You should not feel satisfied until you gain information from all sides and not from only the company's side.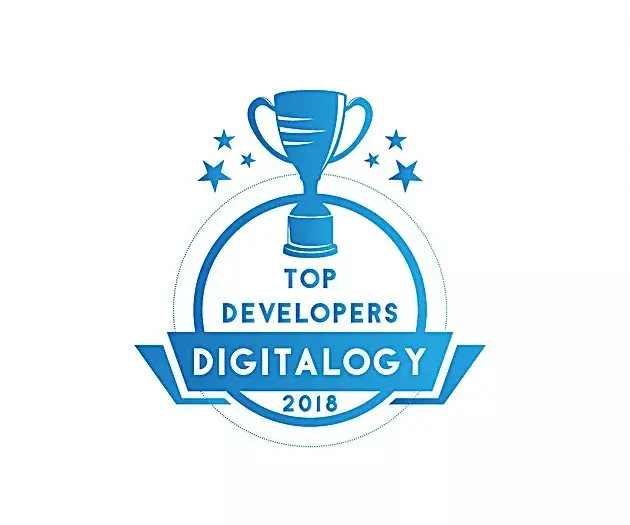 Digitalogy has conducted in-depth research, analysis and due diligence in vetting the Top Eastern European Software Development Agencies for our global clients so that they can focus on their business and we help you in IT outsourcing.
Here we will give you information about each company that you need to trust. Our proposal is the suggestions of web world where thousands of clients come online to place a review.
On the foundation of their trust and are examining, we have listed here crest software developers who will certainly put your idea in a nutshell.
Devabit
Devabit is a software service provider that helps startups and small middle size companies grow their business by offering its engineering expertise and resources.
Their proficiency covers Web and Mobile Development, IoT, Indoor Navigation, E-Commerce, Augmented and Virtual Reality, and 3D.
Their tagline is "At Devabit, we satisfy all your development needs so that you are more business-focused". They are surely one of the most innovating software development firms in Eastern Europe.
They have worked on various solutions used at McDonald's, Unilever, Bayer, Covance, Yamaha, TertaPak and Ralph Lauren.
Customers reach out to them when:-
Need help with cutting-edge technologies.
There is a demand to quickly and effectively scale their software delivery department.
Having an idea but lacking resources or expertise to bring it to live.
Focus: Web Development, Mobile App Development, and IoT Development.
Company Size: 10-49
Rates: $25- $49 /hour
Kindgeek
KindGeek was founded in the year 2013 and is a corporation of determined technology experts.
Their main idea is really straightforward – to help smart people, companies, and entrepreneurs with technology phases of their projects. They give them the prospect to focus on the business while we do what they do finest – astounding software development.
KindGeek is a people-oriented company. They believe that the only way to accomplish outstanding results is to do the precise things with the right people.
The proposal of their company contains philosophies such as trust, quality, and team spirit, sense of beauty, transparency, health, and social accountability.
Some of their recent clients include VC Digitech Fund, Adtags, Datasembly and Brewery Buddy etc.
Focus: Web Development, Mobile App Development, and E-Commerce Development.
Company Size: 50-249
Rates: $25- $49 /hour
4ire Labs
Their main motive is to use blockchain, web, mobile, and machine learning for delegation, process optimization, and enhanced service.
4ire Labs team dedicates you to custom development on the most admired blockchains – Hyperledger, Bitcoin, Ethereum.
The major goal of 4ire Labs is developing Ðapps, Golang web development, mobile for improving financial systems and makes a transparent, consistent and sheltered system for supremacy and management.
4ire is providing services on popular blockchains such as custom development, app development, consulting, and smart contracts development.
Their esteemed clients include crypto Improvement fund, Smart Documents, Agendo, and Vork.
They are one of the biggest and oldest software development agencies in Ukraine specializing in Cryptocurrencies and working on complex and world-class Blockchain projects.
Focus: Mobile App Development, UX/UI, and Design Blockchain.
Company Size: 10-49
Rates: $50- $99 /hour
Pragmatic Coders
They are situated in Poland and work by building distributed applications and writing smart contracts.
Wiktor and his team are one of the top Blockchain and Java development agencies in Poland.
They can build a blockchain-based application from the scrape or become accustomed to your existing systems to use blockchain and tidy contracts.
They also help in preparing ICO's. The procedure starts with the analysis and then moving on to writing Whitepapers and creating an operational prototype to the concluding product release.
Whenever you need custom blockchain, they are there to help you.
They specialize in building principle, blockchain-based systems that prolong various industries such as Energy Management, Healthcare, FinTech, Retail and more. Pragmatic Coders are highly experienced in Java, Angular4, Python and their experience include working in E-commerce automation, Fintech, Cloud Applications, ERP Software development, Internet of Things and Banking systems.
Pragmatic' Coders mission: "is to deliver high-quality software and bring new technological ideas to our clients. We understand that technology is only a tool. But we use these tools to build amazing products for our clients".
Focus: Custom Software Development, Web Development, and CRM solutions.
Company Size: 10-49
Rates: $50 – $99 /hour
IntelligentBee
IntelligentBee was founded in 2010 and is a leading NodeJS / ReactJS corporation which provides contracting and confers with services around the world.
Their development shop is among the finest JS companies for the international market and their developers are experts in ReactJS, NodeJS, PHP, Go, Lang, HTML5 and CSS3, Android, and iOS.
They successfully completed lots of projects and continue to be there for their clients long after they constructed their apps.
Intelligent Bee also has a brilliant in-house Golang or Go dev team. They differentiate themselves by providing full-stack development teams who are trained, managed, and self-sufficient and swiftly line up to their client's business objectives that they can employ either by project or as an extension to their accessible team.
Their Mission is to improve the quality of online by maintaining and creating web and mobile apps that deliver significant value to its customers. Their recent clients include SendGrid, Newton, GrapeFruit and Event Cloud.
Focus: Custom Software Development, Web Development, and Web Design
Company Size: 10-49
Rates: $25- $49 /hour
Artygeek
Want to build trust with a software contributor?
Their purpose is to persuade you that it is probable. They help privileged plan businesses that thrive on the edge of revolution.
They assist companies, entrepreneurs and startups make their digital product or service worldwide and influential.
Their mission is to contribute to their best knowledge and talents with the entrepreneur who wants to become triumphant while working shoulder to shoulder with their convicted digital partner.
Artygeek is known for quick turnaround times, friendly development rates and serves big names in the Blockchain industry like NEM (XEM), Ark.io and creating wallets. They are rigorously adding Blockchain talent to their team and are currently actively looking to hire Ethereum developers.
They have value for you as they provide:-
Clear Process and Documentation
Functional Business Analysis
Transparent Project Estimates
Agile oriented Process: Scrum, Kanban, Waterfall
Focus: Web Development, Mobile App Development, and UX/UI Design
Company Size: 50-249
Rates: $25- $49 /hour
Indeema
Indeema was founded in 2014. Attaining the extensive practical knowledge in software development, Indeema Software follows the latest modern trends of the era of Digital where the IoT (Internet of Things), receptive network solutions, and cross-platform applications wrap the huge variety of business and industries segments.
Whatever complicated idea comes to the mind of customers, they are able to fetch it into being through the reliable, tailor-made, and profit infuriating software they create. Their vigorous and profitable solutions support everyone in keeping swiftness with the Industrial Revolution. Their key clients are Media companies and middle size companies.
Focus: IoT Development, Blockchain, and Web Development
Company Size: 10-49
Rates: $25-$49/hr
DA-14
DA-14 was founded in 2010 and is a fast-growing tech company that builds convention software for startups and small businesses globally.
They don't present traditional outsourcing or outstaffing services, they create persuasive applications together with you.
DA-14 uses Agile Software development practices and SCRUM to deliver the highest quality products to their clients and their rigorous interview process makes sure they have the top-northeastern European developers.
DA-14 says "We love clients, both ours and yours, thus we work hard to offer definite solutions, next-generation user experiences and lifelong cooperation".
Focus: Custom Software Development and Mobile App Development
Company Size: 10-49
Rates: $25 – $49 /hour
Thinslices
Thinslices is founded in the year 2010 and is a people company.
They are a team of elevated performance teams. They manufacture software based on someone's idea. They are dedicated to building digital products from zero to one.
They will help you transform today's ideas into tomorrow digital product.
A multidisciplinary team that follows a unique methodology excels at organizing your projects, as well as the support services.
They match perfectly the phases a digital product goes through. Pick any or all of them, depending on your needs. 🙂
Focus: Web Development, Mobile App Development, and UX/UI Design
Company Size: 50-249
Rates: $50- $99 /hour
Merixstudio
Merixstudio is a software company established in 1999, based in Poland.
They are a full-stack team ready to plan, develop and design your web applications & digital products. They say "We love startups!"
Merixstudio collaborates with international firms, such as Toshiba, HSBC, KLM, Virgin, M&S, Volkswagen, startups and other inspired agencies who don't have the development skills in-house to help them bring their great ideas to life.
Their core competencies (and something that makes them stand out) are rich web application development, UI/UX design, and HTML5 game development.
P.S They are one of the oldest and most trusted software development company in Eastern Europe.
Focus: Custom Software Development, Web Development, and UX/UI Design
Company Size: 50-249
Rates: $25- $49 /hour
Read More Article Here –
HTML5 Is The Present And Future
Hire Golang Developers Or Agency
Top Software Development Agencies In The USA
Best Project Management Tools To Grow Your Business
Best Blockchain App Development Agencies In The World