"Usability is not only about ease of use but also about bringing something meaningful, having an objective in common with the user."

 — Marcus Österberg
Usability (don't get confused with user experience) is a critical aspect of any user experience, and it essentially defines how easily the users can get things done using the product.
A good design that cannot guarantee a usable product eventually fails to assure a great user experience.
Corporations spend large amounts of time designing their products and come up with countless creative designs.
The most fitting design is often given the go-ahead without sufficient usability testing as businesses continue to overlook the potential of usability aspects of their product. This leads to a lackluster user experience and an unsuccessful product.
Now, with the introduction of some of the best usability testing tools, usability is getting much-needed attention, leading to some of the most memorable user experiences and happy customers.
What Does Good Website Usability Mean?
Usability is critical for any application, but for mass-market software, usability spells success or failure more clearly than any other feature."

 — Jerrold Grochow
The process of creating a successful product includes thorough planning, materializing the concepts, weeding out the mockups, and after proper testing, a product launch. A variety of factors come into play when deciding how likely are your users going to accept the product, some of them are:
Credibility: Defines how credible the information presented on your website is.
Clarity: Defines how clearly and smoothly the information and design are presented to the users on the website.
Relevance: Defines how relevant the overall website is to audiences of various groups.
Accessibility: Defines how easily the website can be accessed, including the uptime and load times/
Good usability could be as simple as placing the design elements and the information in the product in a manner that it becomes smoothly accessible, efficient and adds to the user's satisfaction.
With usability in the mix, having a stunning user interface and experience isn't enough. Adopting one of the paid or free user testing tools will significantly help in delivering a top-notch user experience.
The 10 Best Usability Testing Tools
A Usability Testing tool essentially measures how easily the user will be able to navigate through the website or software. The tool puts your website or software through a variety of tests to evaluate its simplicity. The standard tests include A/B tests, Hallway tests, and accessibility tests along with numerous other tests and come equipped with features such as team collaborations, annotations, reviewing, and exporting results.
Proper usability testing is an absolute must for delivering a user experience that demands less from the user, but at the same time, delivers the maximum.
Some of the various paid and free usability testing tools available to evaluate the usability aspect of your product are briefly explained below –
1. UsabilityHub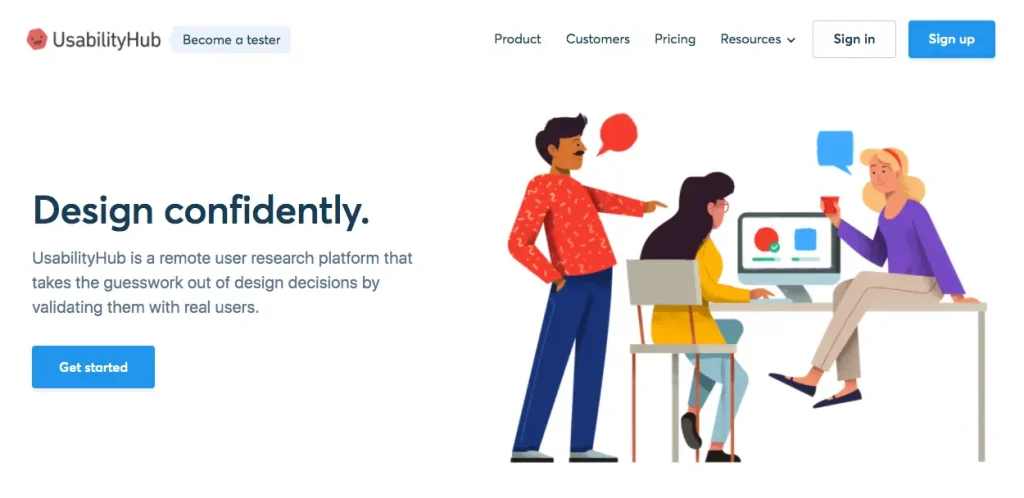 Starting Price: From $50
Demo Available: No
Free Trial: No
Website: www.usabilityhub.com
Used by some of the top companies such as Amazon, Google, GoDaddy, Asana, and more, UsabilityHub is one of the best usability testing tools available. Being a paid tool, it does not come with a free trial, putting an end to wasting your time worrying about your product's look and feel. Each test presents in-depth information about your design for further decision-making.
Features include CSV exports, analysis options, device targeting, split audience testing, and more, making testing painless. The test methodologies include First Click, Preference, Five Second, and Design Survey. When it comes to choosing the right audience, UsabilityHub lets you select from your invited users or a pre-selected batch of experts from UsabilityHub.
2. Userbrain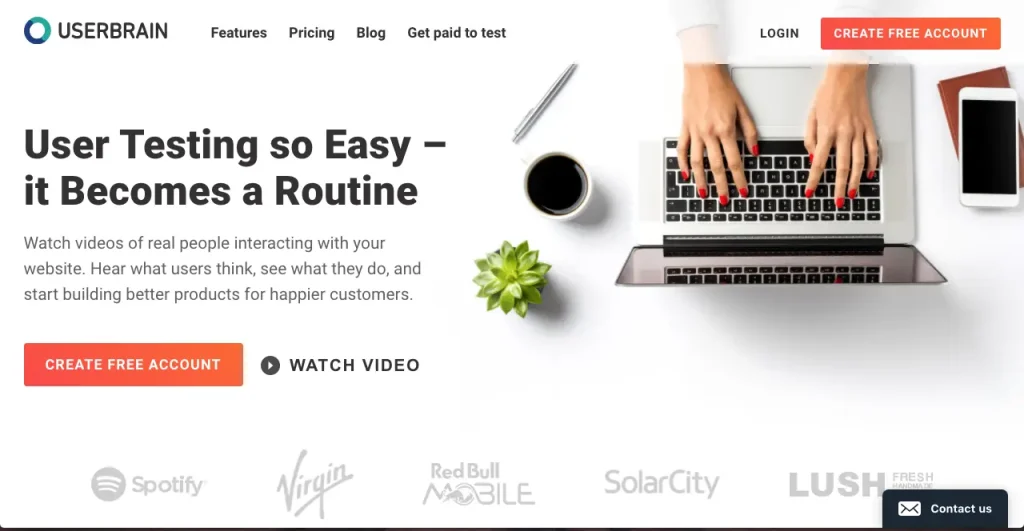 Starting price: $29 per user test or $19 per month
Demo available: No
Free trial: No
Website: https://userbrain.net/
Userbrain is among the top usability testing tools, letting you get into the minds of your users, and giving you a first-hand impression of how they perceive your design. Yet another paid tool, it helps you get access to a broad range of real and unbiased audience feedback in the form of screen captures and audio recordings, steering your product creation and improvement process in the right direction.
Using Userbrain, you can also monitor and benchmark your products to identify key pain points for the users, helping you eliminate them for better performance.
3. UserTesting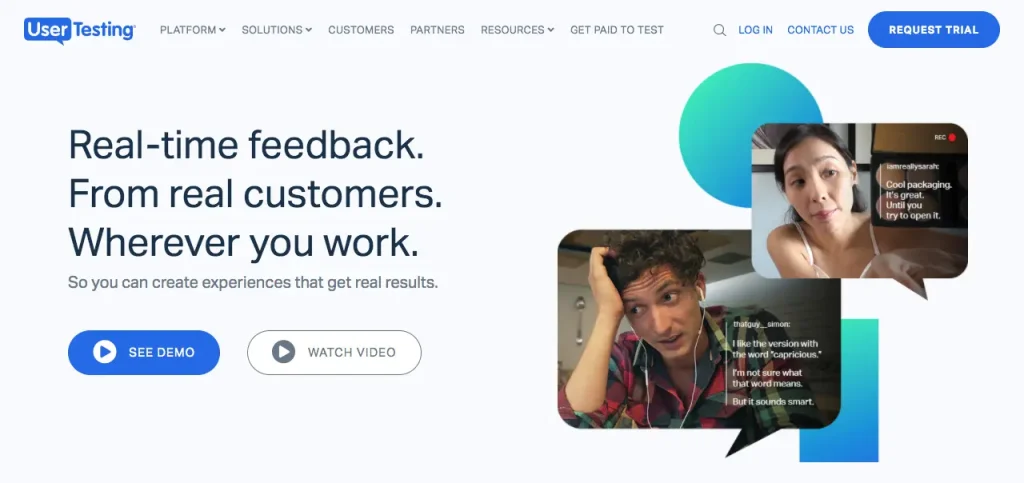 Starting Price: Not provided, contact UserTesting
Demo Available: Yes
Free Trial: Yes
Website:  http://www.usertesting.com/
Platforms: Android and iOS, mobile and web
Features: Heatmap tracking, eye tracking, video recordings, moderated sessions, written feedback
UserTesting is among the best usability testing tools and is used by some of the top dogs in the industry, enabling them to gather real-time feedback from their users about how the users perceive their product. It comes with a free trial as well as paid plans to get a hands-on feel of the tool.
You get access to a comprehensive suite of testing tools and users that engage with your product, generating vital metrics that help you overcome any obstacle to get your product in the hands of your customer in no time. Smooth collaboration with design and marketing teams, allows seamless idea sharing and feedback for instant time to market.
4. Loop 11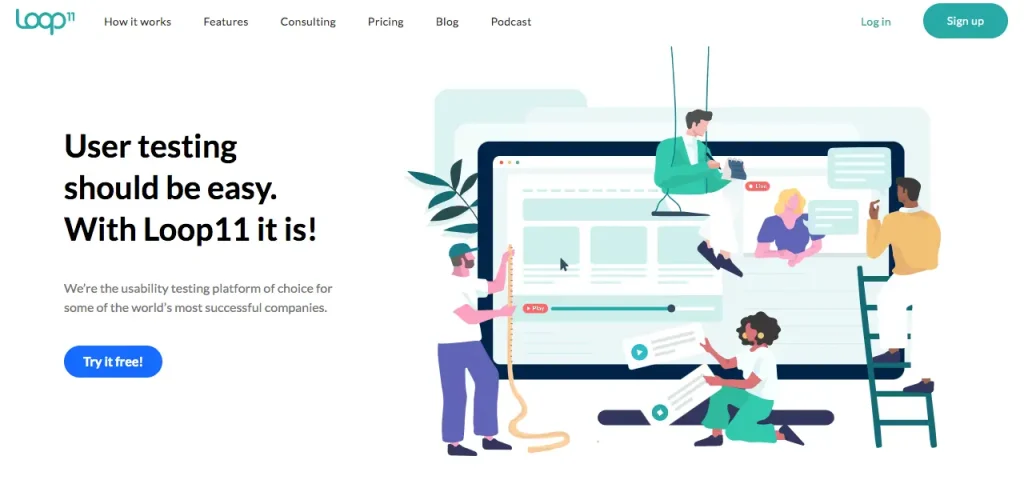 Starting Price: $69 per month
Demo Available: Yes
Free Trial: Yes, 14 days
Website: https://www.loop11.com/
Loop11 is a popular user experience testing tool to identify and iron out the navigation and usability issues with your product. It comes with paid plans as well as a free trial for you to experience the simplicity of connecting with users and making your products more enjoyable.
Loop11 records users interacting with your product and is available on computers, mobiles, and tablets. With an extensive feature set including A/B testing, accessibility testing, search engine findability, and competitive benchmarking, to name a few, Loop11 allows instant test creation, to get you up and running with in-depth insights quickly.
5. Lookback
Starting Price: Starting at $49 per month
Free Trial — Yes
Website:  https://lookback.io/
Platforms: iOS and Android, mobile and web
Lookback is a convenient tool for letting businesses plan their user experience better. It comes with a no strings attached free trial and other paid options. What makes it one of the best user testing software is the option to interview users in real-time, while they go through your curated user experience to get live feedback from them.
It includes options such as time-stamped notes, highlight creation, an easy-to-use dashboard, and many more standard features that can help you offer a better user experience through feedback collected from product research.
Readout too – The 12 Best Free Wireframe Tools For UX Designers In 2020
6. UserZoom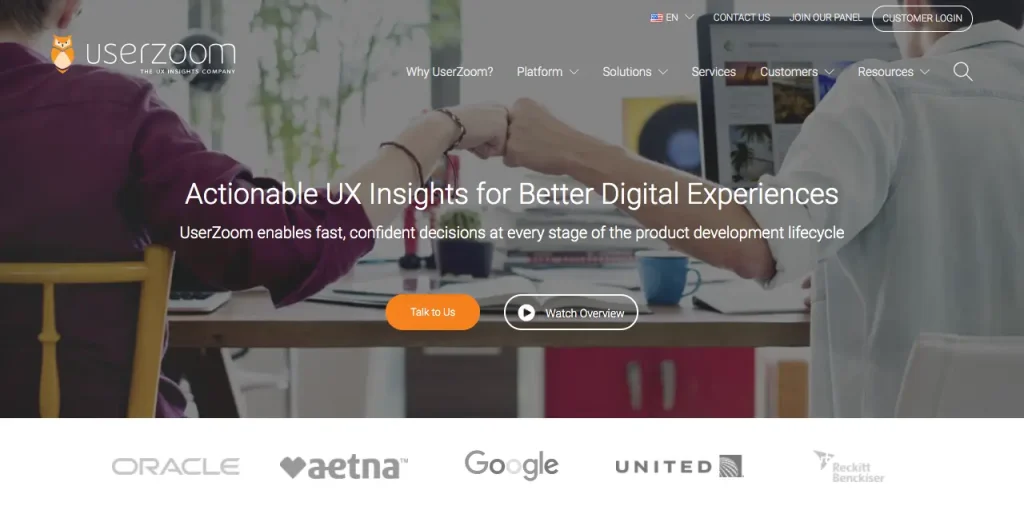 Starting Price: Not provided, contact UserZoom
Demo Available: No
Free Trial: No
Website: www.userzoom.com
Features: Benchmarking, behavioral data collection, one-page click test, great support system, etc.
UserZoom offers automation with powerful analytics for your usability testing needs and comes with paid options that scale as your business grows. An essential tool for user experience researchers, designers, marketers, and product managers, UserZoom is an all-in-one solution that enables enterprise-grade capabilities, helping you focus on how to nail the best user experience.
Online surveys, tree testing, true intent testing, click, and timeout testing card sorting are some of the testing methodologies implemented that allow UserZoom to be faster and more efficient, making your decisions easier.
7. TryMyUI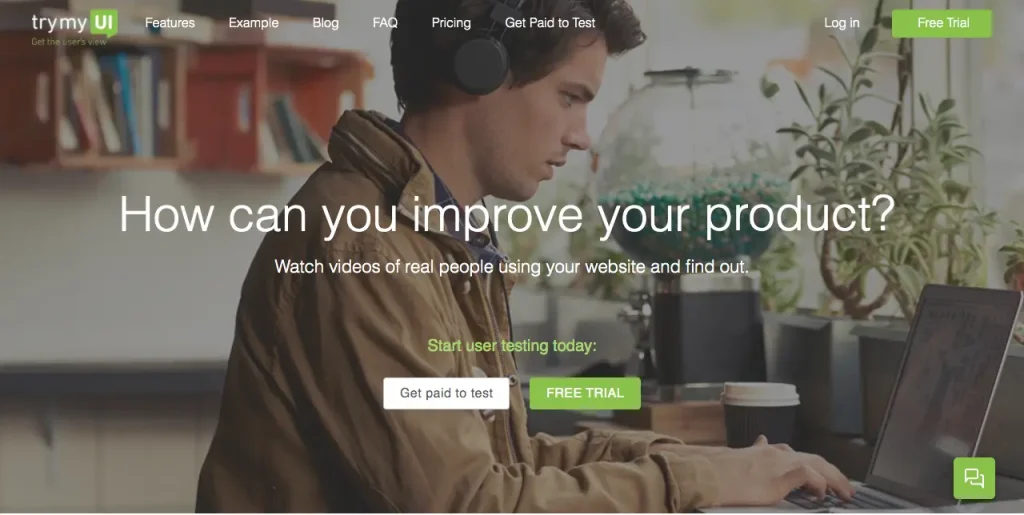 Starting price: $35 per test or $299 per month (10 tests)
Demo Available: No
Free trial: Yes, 1 test
Website: www.trymyui.com
Features: Impression testing, written survey, demographic curation, video screencaps, keystrokes
TryMyUI aims to simplify the complex process of gathering user feedback with its comprehensive suite of usability testing tools. It comes with paid plans and a free trial to give you an idea of what you're getting. It covers mobile users as well as desktop users and offers you the option to bring your preferred batch of testers if you have the said team available.
The qualitative and quantitative insights paired with impression testing, written surveys, wireframe & prototyping testing, highlight reels, and video annotations with complete analytics of test, put TryMyUI among the best user testing platforms.
8. Optimizely
Starting Price: Not provided, contact Optimizely
Demo Available: Yes
Free Trial: No
Website:  https://www.optimizely.com/optimization-glossary/ab-testing/
Features: A/B testing, cross-browser testing, solid visual editor, data decision, etc.
By eliminating digital guesswork, Optimizely lets you engineer products that connect with users. It comes with paid options for Web and Full Stack for fine-tuning user experience improvements. Numerous teams such as engineers, product managers, marketing, data scientists, and team leaders can benefit from Optimizely to better engage their users.
Optimizely offers A/B testing to run two test branches for the same purpose concurrently, a feature that is standard in the best usability testing tools. Features such as easy setup let you create multiple tests without any technical know-how. Optimizely is highly developer-friendly and provides several extensions and APIs to get the most out of the tool.
9. Crazy Egg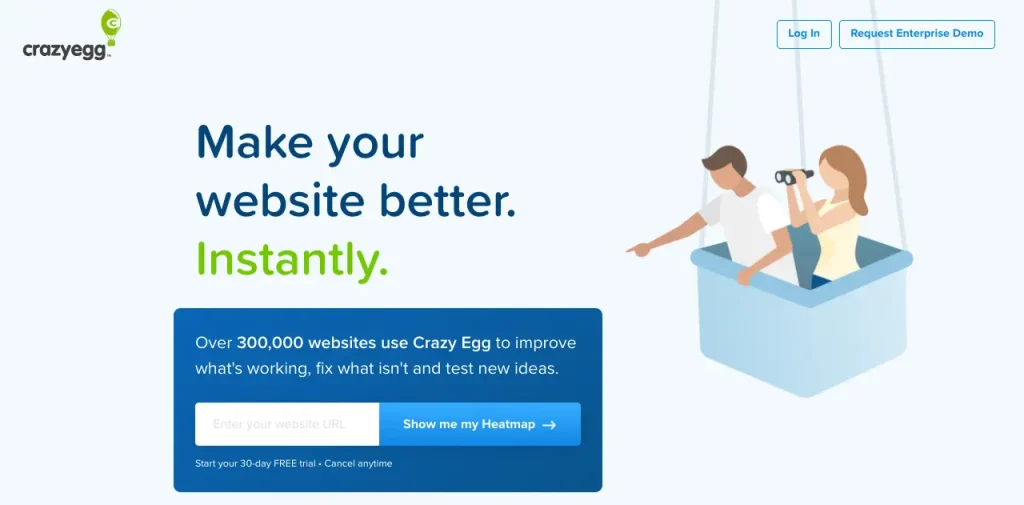 Starting Price: Basic- $29, Standard- $49, Enterprise- contact sales
Demo Available: Yes
Free Trial: Yes, 30 days
Website: https://www.crazyegg.com/
Features: heatmaps, confetti reports, a scroll map view, easy to use, user recordings, & A/B testing.
Crazy Egg offers in-depth insights into your test results using heatmaps and a variety of reports for snappier decision-making. It is a paid tool, but it does come with a free trial. With Crazy Egg's A/B testing and user recordings, you can isolate and eliminate the obstacles stopping you from getting more conversions.
It comes with a Scroll Map feature that tells you how far down your users scroll and lose interest. Critical information such as this can help you keep the visitor interested in your website for longer, leading to possibly more conversions.
10. Userlytics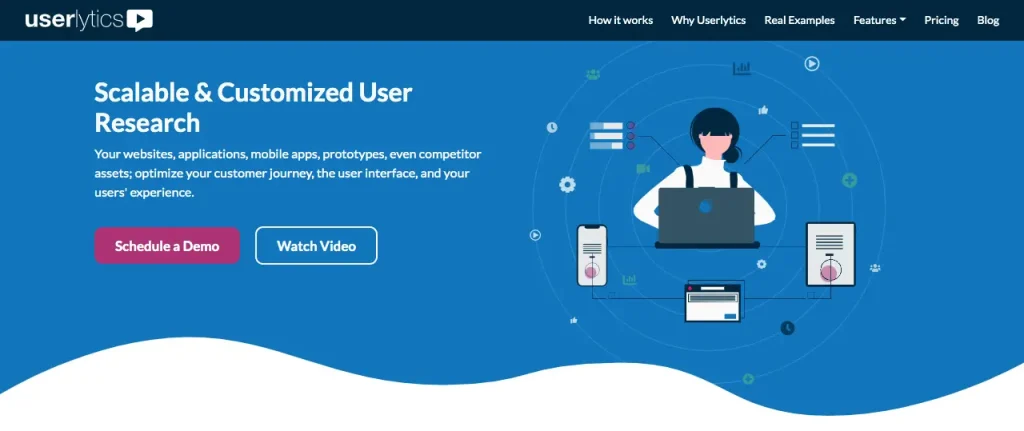 Starting Price: $49 per participant
Demo Available: Yes
Free Trial: Yes, the first participant's free
Website: www.userlytics.com
Features: Advanced UT metrics such as Time on Task, Success/Failure, SUS, NPS, or SEQ; Full Picture in Picture Videos
Userlytics is another popular tool for usability testing on a plethora of devices. Being a paid tool, it comes with multiple plans, and a free trial to get you started. It offers screen records of your participants interacting with your design along with standard usability testing features such as annotations, highlight reels, multiple studies, and testers per session.
What makes it one of the best user testing tools is the smooth test creation with screening questions, helping you find the right audience. Generated results offer invaluable advice on the pain points and how to plug those sales leaks sooner, which can be further shared with internal teams.
Some More Usability Testing Tools to Choose From –
11. UserFeel
12. Usabilla
13. Clicktale
14. UsersThink
15. Hotjar
16. Five Second Test
17. Qualaroo
18. Inspectlet
19. Chalkmark
20. Validately

Conclusion
Customer satisfaction is the driving force behind any business, and the goal should be to offer the solution in a manner that's not only simple but efficient. With some of the paid and free usability testing tools mentioned above, you can get a hands-on experience of how your user will feel while using the product, allowing you to tweak it early on and avoid potential criticism. With thorough usability testing, you can ensure to provide your users with a top-of-the-line user experience with the final deliverable.