In today's market, where startups and remote workers are popular, contemporary business demand a tool that not just tracks tasks and milestones but also helps in team communication and Collaboration. For example, sharing files online, setting up a meeting, or connecting your remote team member with video conferencing and real-time chat channels. Beyond these social networking features, the company also demand tool to integrate with a third-party solution for better function. The most popular tool for these demands is "Slack", and it is very useful. However, it is no harm to look up Slack alternatives in case something goes wrong.
What is Slack?
Slack is a cloud-based communication and collaboration tool that started as a messaging app but has outgrown itself. Its features include:
Direct-messaging capabilities
Notifications and alerts for meeting
Document sharing
Group and private chat
Search options
It also provides integration with many third-party services such as Dropbox, Google Drive, and GitHub. It is among the few tools that support source code snippets while retaining the language's original format.
Why do People Choose Slack?
A lot is going on for Slack, and one of them is that it is not owned by a big company and it can make changes quickly according to the user's need. Other major reasons why people choose Slack because:
It has a simple but user-friendly UI.
Slack has a secure system with two-step authentication
All of its features are similar to social media which makes it easy to use
It allows an organization to have a measure of control over who can see and use the information.
What are the Biggest Cons of Using Slack in 2023?
Distraction: Slack is a one-way conveyor belt conversation, i.e., you need to be constantly active to understand what the other members are talking about. If you miss it for 10 mins, you won't understand. This can be incredibly distracting to your work.
Adoption: Slack is a tech-based application that requires the vast experience of using a messaging app; otherwise, many won't understand what is going on in the app.
Security Issues: Bringing in international team members causes concern about security and synchronization.
Best Slack Alternatives in 2023:
As we can see, there are cons to Slack, and if you are looking for a change, we suggest you look at the Slack alternatives mentioned below.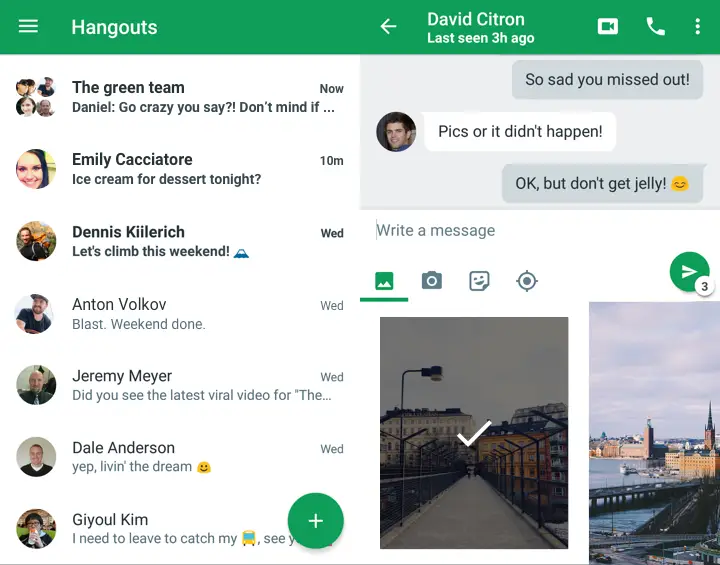 This is the free Google slack alternative, which we all see in our smartphone but doesn't care to use. However, this is a pretty useful tool if your work involves the use of Gmail and Google drive. It has a basic UI, and you can chat with people whom you are connected on Gmail. The video feature is what set it apart from other tools on the list.
This team chats app is easy to use, smooth, and affordable. This alternative has an unlimited message history, and you can't lose track of your messages. It does all the basic work like audio and video calls, project management, and screen sharing in its free plan. It is integrated into more than a hundred useful apps like Trello, Google Drive, Github, etc. Its paid plan is just $3 per month, half of slack.
If you have already brought Microsoft Office 365, then we suggest you use Microsoft Teams as your dedicated team chat app. It will integrate easily in your work, and you will have smooth communication among team member. This Microsoft Slack alternative does take a few hours for getting started. You can use the free trial and then opt for $5 per month for its service.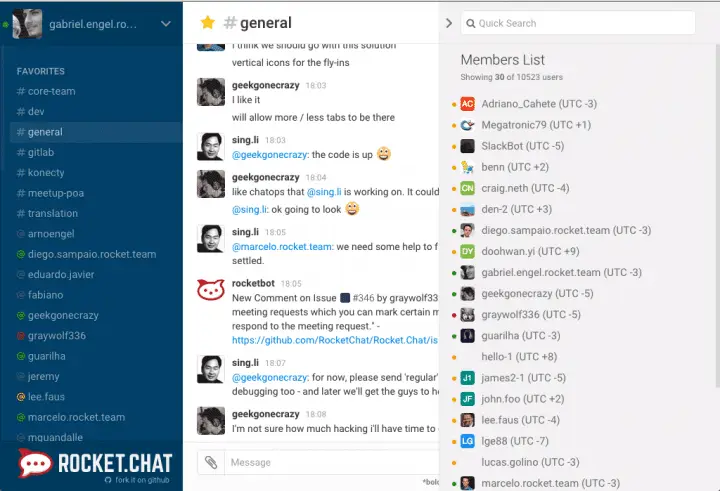 If you are looking for a free slack alternative than this is the best option. This tool is completely free and open-source, so you can edit it and shape it according to your need. It comes with basic features like audio and video call, screen sharing, etc. However, the only con is that it doesn't have dedicated customer support.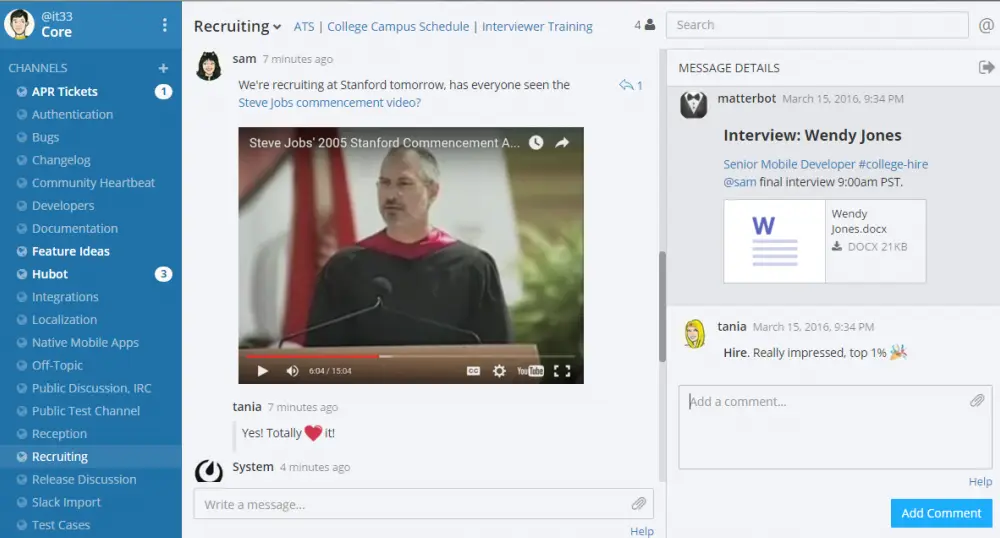 This app is also open-source and self-hosted. This makes it very desirable for tech giants such as Uber and Samsung. It is one of the few collaboration apps like Slack that acts as a social network. It was originally developed for DevOps teams. It works for any industry or team. Its premium plan starts at $3.25 monthly, cheaper than Slack.
This slack alternative is similar to Skype, where you can message anyone with a Fleep account, as long as you have their ID. Its free plan offers unlimited message history and integrations. If you want a dedicated workspace, you can buy the business plan which cost 5 Euros per user per month. This app is very effective if you are heavily reliant on external communication.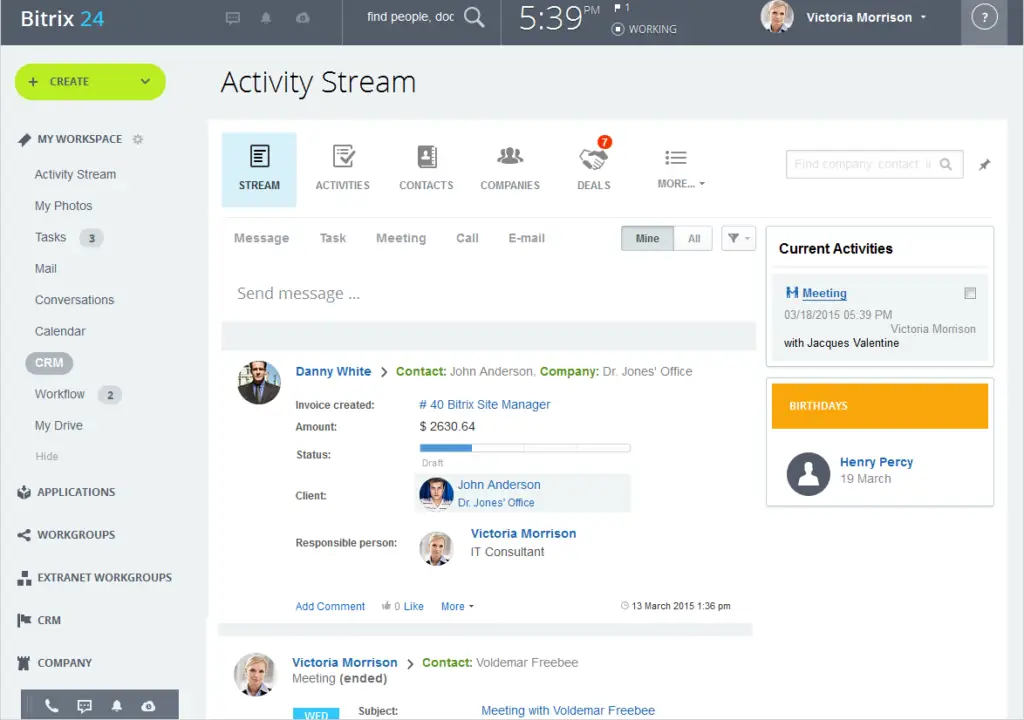 This is a slack alternative for an all-around collaboration app for your team. It is extremely helpful if your team has to make sales. It has all the standard communication and collaboration features, plus you get task and project management tools for your entire team. You also get a full-blown CRM. The free version is available for 12 users at a time while the paid plan is $69 per month for six users.
This app poses some serious threats to Slack as the popular communication tool. In its free plan, users get unlimited message history and unlimited integrations. It offers to-do lists and polls as native features making many additional apps redundant. It is cheaper and faster than Slack. The only suspicious thing is UI, which has five columns. This makes it easier to see who's writing, but it also makes the screen cluttered. This easily makes Flock the best Slack alternative.
It has a different approach to messaging as it includes subject lines and threaded replies. Each section has a sub-section. Other features include fast search, keyword shortcuts, code syntax highlighting, and lots of shelf integrations. The tool also offers drag and drop file uploads, private group messages, image pasting, emoji, and audible notifications. This tool is very different from others on the list.
As the name suggests, this tool is about flows and work processes. It lets you connect with your team members by text and video. Team members can also track the progress of the ongoing-tasks. The tool also offers various useful integration with apps like Google Drive, Dropbox, GitHub, etc. Plus, it has integration with some of the useful but unpopular app like GIPHY, Deveo. This makes work easier for your team. It is also cheap with just $3 per user per month.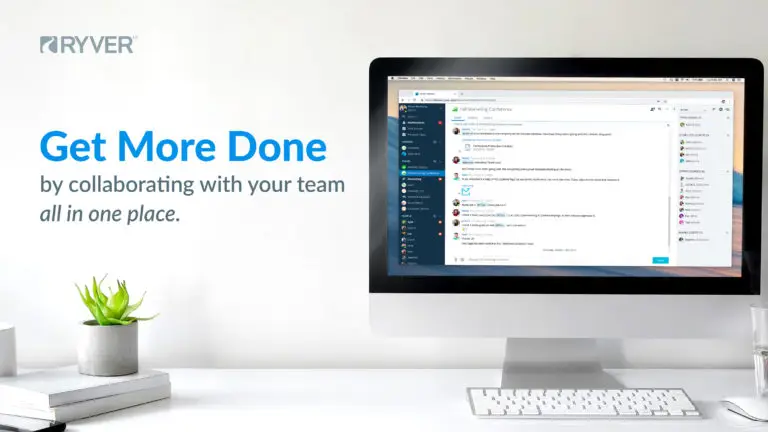 The concept behind Ryver is to combine a team chat with a project management app. So, that company can get the best of both worlds. It kind of worked but not as effective as the combination of Slack and Trello. For example, the tool has native integration with a tool like Google Drive and Dropbox, but you need to pay for Zapier for more integration. You will have to pay a minimum of $49 per month for 12 users.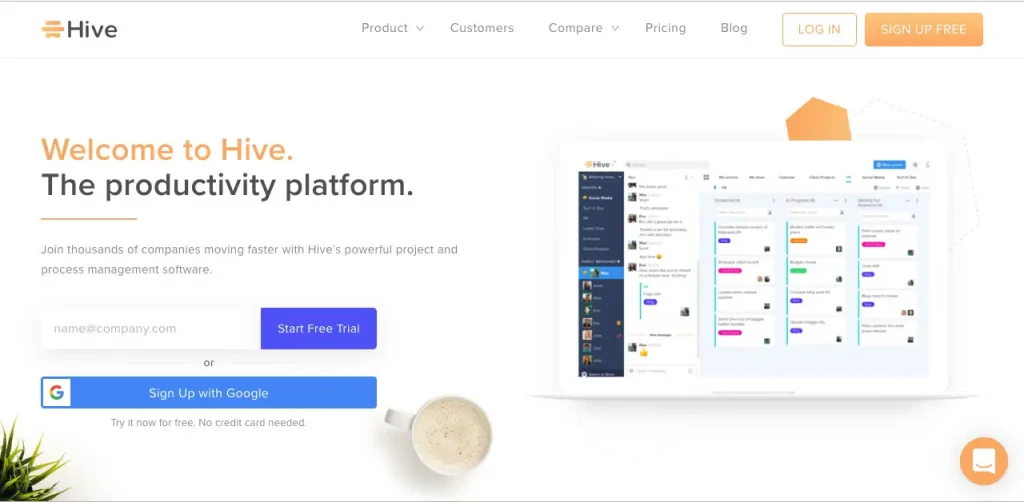 While most tools on this list started out as a communication tool and later added on features in their app. Hive is completely different from the other free slack alternatives. It was designed as a complete project management solution with features like automated workflows, action cards, time tracking, detailed analytics, and over a thousand integrations. All of these make Hive an impressive communication and collaboration tool. You can start a free trial and then purchase the professional tool at just $12 per user per month.
Conclusion
As we can see, there are lots of Alternatives to slack, both free and premium. Clearly, many of them are worthy alternatives if you are looking for a change and wants a faster, cheaper, and flexible tool.
Read Recent Articles here –
Angular SEO – How To Make Your Angular Site Indexable