Divya Raj started her journey as a Digital Marketing intern, then as a part-timer, and eventually as a full-time Digital Marketing Strategist. Read about her experience working at Digitalogy…
Pursuing a business degree made me realize my interest in this field; as the first year went by, I was perplexed about which domain I should go for in terms of employment. I had done prior internships in the HR field, but I didn't see myself working as an HR in the future. I have always known to be creative and innovative, but I didn't get the opportunity to showcase these sides of mine in the HR field, so I eventually dropped the idea!
HR: You describe yourself as a 'free thinker' in your resume. That's good because we can't afford to pay you!
Me: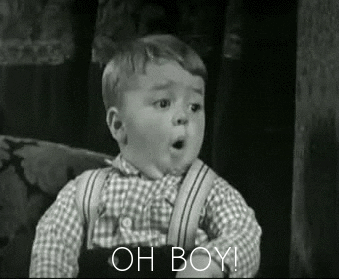 (Source- Giphy.com)
There I was contemplating the wide variety of options available for me to make my career in. Fortunately, I got a hold of this Digital Marketing internship at Digitalogy. My resume was selected; I was quite nervous as I had done a course related to this but had no practical experience in Digital Marketing, and luckily, the interview went absolutely well! Mr. Mehul Sood, the company manager, took my interview; he was generous enough to understand the nervousness that I was going through during the interview. By the grace of God, I got selected. I was absolutely amazed by the way people work here. They are so considerate and helpful.  Mr. Harish Kumar, Seo Strategist, guided me through Digital Marketing; what work he does, how he does it, tools to use, tactics, etc.
Initially, I was hired as an intern, and my first work was to write Seo-friendly articles for the company's website. I had a lot to learn and unlearn. In each and every step of the way, my teammates guided me and showed me the right direction. Within a month, I had written 5 Seo-friendly articles. It was a milestone for me.
My first SEO-friendly article was "AIoT: The Robust Combination Of AI And IoT.' (AIoT and AI and IoT being the keywords)
Go check it out yourself; I am sure you'll love it!
After conquering the blogging domain, now it was time for me to handle all our social media channels. I started analyzing which type of posts attracted the most audience, which channel I should focus on more, etc. At this point in time, I remember I was studying for my 5th-semester exam when a message popped up in front of me. It was from Ms. Jazmine Smith ( the Chief of Staff) from Brooklyn, New York; she had asked me if I was willing to work as a part-timer. Obviously, I went for it; who wouldn't!  I was exhilarated beyond words as I'll be earning money. It was a big thing for me because I'll become independent.
After acceptance of the part-time job, I had a personal interview with Ms. Jazmine. She was very calm and eager to know my point of view. It was amazing to interact with somewhere outside of India. Her positive and enthusiastic support encouraged me to explore avenues of thought that I never knew I could tap into. I must say all the team members, including those in India and those present in the US, are super duper cooperative and open-minded. I just love the work culture; everything is so flexible here!
Along the way, the manager always encouraged me to learn new things that come along in the Digital Marketing Field. He gave me sufficient time to learn and work upon myself. Eventually, all the things that I learned, I applied them in the marketing of our business. I had heard from my friends their dreaded experience of internships, where they always felt overworked, but on the contrary, I was fortunate enough to say that what knowledge I have now is because of this internship only! My experience has been amazing. Recently, I was offered a full-time role as a Digital Marketing Strategist at this company. Now, I am involved in a plethora of activities; blog writing, handling social media platforms, creating successful ad campaigns, designing ebooks and guides, email marketing campaigns, SEO-related activities, designing landing pages, and many more.. Every day, I am making more additions to my knowledge!
This blissful experience has been a blessing in disguise for me. I kind of grew with the company. The manager is always open to new ideas, and most importantly, listens carefully to your every saying. You'll feel valued here, I guarantee. It has been an absolute pleasure working with Digitalogy as the team has made me feel a part of this small family, and I am looking forward to contributing to new ideas every day.
"I am confident enough to say that my work life's journey started from the right place, and it has carved a definite path for my future ."
Check out some of my work:-