Have a complex Project to Manage? Searching for the top Project Management software that is viable according to your needs? Look no beyond the cutting-edge, modern-day project management tools to the rescue.
We present you a little something that will help you to decide which management software to opt for that will suit your perceptions and needs.
What Is a Project Management System?
Project Management is all about managing a project entails many things that have to be tracked and followed up upon as different characteristics. Managing a project includes many activities like determining project tasks, assigning resources, creating a schedule, and identifying and tracking issues and risks. If you think that's enough!! Well, that's just the tip of the iceberg; as a manager of a project, you are accountable for the overall success of a project. That's a knotty task to perform, how can anyone successfully track all those different aspects of a project? Well, we are here to discuss all that.
Managing a project by planning, managing, and organizing are different aspects of a project management system. Depending on the complexity of the project management system, it can comprise:
Scheduling
Decision-making managing
Risk management
Cost control and budget management
Resource allocation
Quality management
Change control
Estimation activities
Here are some of the project management systems that we have thrown light upon:-
One of the pinnacle project management systems available in the market is Asana. It is commonly liked for featuring a good blend of task management and cooperation tools. However now the question arises, is it actually the best system for your desires? To help you find this out, we are here to talk about some of the constructive characteristics.
Asana brings many characteristics to the table. In total, management systems like Asana can help you monitor concurrent projects easily and can help you drill down to task details. On the other hand team leaders, can farm out subtasks and create their project segments and multiple workspaces. On top of that, team members enjoy the litheness to prioritize tasks, manage their own workspace, upload files, and even hand over duties.
With the help of tools that Asana provides anyone can create tasks and projects and add team members to select actions. You can also control the accessibility of who sees what across projects and tasks in order to protect receptive data.
Likewise, Asana allows you to allocate files and multiple users can team up through emails, comments and notifications Asana can be used for letting go of the email or third-party communication apparatus. Asana can also be used for exchanging information that can all happen in one place. This makes tracking, collaborating, sharing, and organizing tasks much simpler and well-organized.
Overall, Asana is effortlessly one of the crest project management systems that businesses or projects of any size can use (even freelancers).
Wrike is a victorious project management system that matches the needs of projects of any dimension. From asymmetrical work to the multifaceted project, Wrike's robust and adaptable features help different teams to collaborate in a better way and communicate with greater simplicity, while managers gain more visibility throughout the stages and happenings. Anyone can use the free Wrike app that offers adaptable tools like file sharing, task management, and real-time activity at no price.
One of its distinguished features is its 3-pane project view, which gives you clear visibility across different project details at the same time. On the far right pane are the task details. The left pane shows the ladder of tasks and subtasks, while the middle pane displays the task catalog. This page is useful in many ways, whether you're after a bird's eye view of projects or want to excavate down to details.
Wrike has ample best-in-class partnership, communication, and manuscript management tools, as well as a wide-ranging set of features and a discerning interface, making it one of the preferred solutions when managing projects or tasks. Specifically, Wrike features venture auditing. Anyone can easily monitor group and individual performances with a few clicks. Wrike's auditing tools strengthen team accountability and manage lifecycle changes better. This helps ensure everyone is on track or that no troublesome incidents are happening during the course of the project.
Clarizen is a little more complex than other project management software. It is complex because of project management software designs that are designed specifically for large companies and enterprises. Its featuring tools include a clear task-subtask structure that can hold complex projects. For managers to steer across team leaders or sub-projects to see where their activities belong and contact on Projects, tasks, and conversations are correlated, making it easier for managers and other team members.
Sophisticated tools like budget forecasting, end-to-end dashboards and reporting resource management, and portfolio management are present for handling complex projects. These are all characteristics of Clarizen. This system also features advanced project planning capable of various incorporating due dates, deliverables, methodologies, dependencies, and milestones across procedures. Other Clarizen advanced features that are not available in other project management system includes accounts tracking non-billable/ billable work items and risk management. For complex projects, Clarizen provides tools that edge over some other project management software.
Trello is legendary for its boards, lists, and cards following a very different management style. It's a highly ocular task management system. You can set apart projects by group tasks, boards by cards, and individual tasks by lists. In addition, anyone can attach links to the card, create checklists to monitor progress, and comment inside/on the cards. Making Trello a kind of Pinterest for creating inspirational boards you can also upload images in cards.
It's clearly not designed to handle full-scale projects, although Trello appeals to users for its visual and straightforward style. One of the foremost disadvantages is that you can try but you'll end up with too many cards scattered across too many boards. On top of that, too many boards and cards simply occupy the entire space of your monitor and your details on one particular card will be buried somewhere in one of those cards.
As your venture grows in complexity, you'll definitely need another management software type of solution that offers a quick view of drill-down quick access to details. This is the main reason why Trello is not described as project management software but as an excellent task management solution.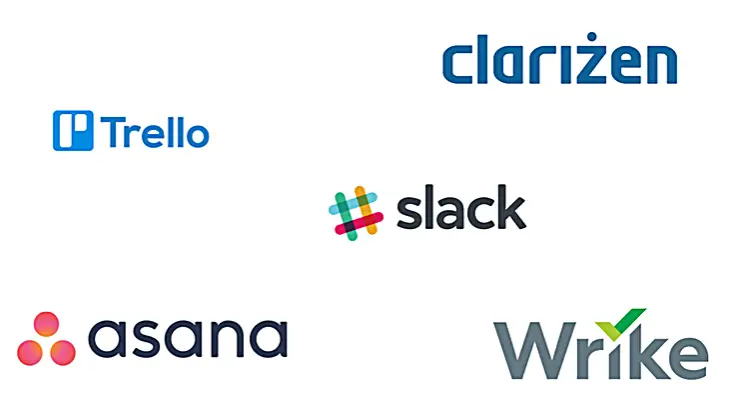 Stewart Butterfield a Canadian entrepreneur developed a cloud-based team communication tool in 2013 and currently is the CEO. Slack was originally meant to be an inner communication tool at Butterfield's diminutive company named Tiny Speck, but as his team urbanized the now-defunct online game Glitch. But by the middle of 2015, Slack had become a tech and media favorite for its ease of use and different fun in-app features.
It works by contributing communication over topic-based "channels" in the figure of internet transmit chat that allows collaborators to tag each other in conversations, you can even 'star' responses, and even share files in the thread of a chat. It also offers to create confidential groups and provide them with direct message formats, as well as ecstatic features like GIF-generating using a simple keyword text command that pulls content from another playful company, Giphy, into the chat.
In 2017, Slack moved more rapidly to its dream of killing office email with the launch of Community Grid, a version of its community messaging platform that offers split spaces for different teams and team members, along with cross-company channels and an amalgamated directory. Slack has thrived where other different collaboration software have failed by making company communication not just easy, but amusing.
Its gracefully designed chat rooms and perceptive interface allow for instant team communication, essentially eradicating the need for email chains. Slack has become a competitor by introducing other shared Channels by connecting teams from different organizations in order to collaborate.
Slack's annual recurring revenue has astonishingly reached more than $200 million, with over 9 million weekly active users (2 million paid). Slack's mounting popularity as the effective tool of choice has attracted $750 million in enterprise capital funding, which includes a Series G round of $250 million in October 2017.
In the end, we endeavor to ensure that project management systems provide advanced exposure capabilities. It's easy for leading stakeholders on development to develop the reporting they need, whether they are making a presentation to external clients or internal executives. This will help customers to feel that their needs are being met and their welfare is being protected.
There are many more project management systems other than we have talked about, but according to us these are the top-rated systems and will help you to manage your project including team and different team members.